Play speaks out against AIDS
NONIKA SINGH
Hindustan Times Chandigarh, February 25, 2007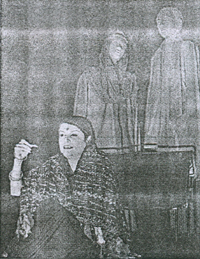 Scene from a play 'Muskan' staged at Tagore Theatre in Chandigarh on Sunday.
"YOU ALL know the truth about AIDS". Or do we really. But as this play Muskaan brought to the city by Oorja and Blood Bank Society was staged at Tagore Theatre it didn't flinch from giving the whole picture. Not just cold statistics facts. Not merely how it affects over five million people in India largely between the 20 to 35 age group but more significantly most poignantly it brought alive the trauma, distress, anguish of those who were affected by the deadly HIV virus.

Directed by well known theatre person Lushin Dubey, the two actor play, a Theatre world presentation was at once engaging and moving. Sensitively and sensibly above all positively handling the issue, the rather somber subject of HIV awareness it told many tales.Of the two key protagonists the HIV patients who find hope, a reason to smile as also of other people from different walks of life. Truck drivers, sex workers gays, eunuchs the hapless wives varied sections of society but all connected by the same deadly virus.

The narrative scripted by Ritesh Shah dispelled wide spread myths but above all it dwelt upon how the incurable disease has become associated with shame. How those who carry the virus also bear the cross of being branded pariahs. Besides the thought provoking narrative, treatment was more than adroit. If on one hand Lushin's directorial prowess pulsated (the play's grip didn't flag for a moment) on the other her acting was truly brilliant.

Adeptly she with just a change in prop here and there fitted from one character to another revealing her vast and malleable range as an actor. Consummate and convincingly natural was her co-actor Daman playing mostly Vish (but also host of other roles). Excellent set design, creative play of light added to the theatrical sway. And theatre's make believe potency stood bare in telling the real stories (play is based on real life accounts) most effectively and powerfully. In the end till then a misinformed character says, "Now I have understood." Hope that we the society too understand that HIV patients need a world that cares. The play certainly did its best to ensure that Muskaan beams in their lives. Hats off to meaningful theatre, the kind that can make a difference.