LUSHIN DUBEY NOW WANTS TO PLAY ALONE
Manjula Negi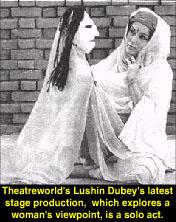 LUSHIN DUBEY is going solo. No reason why that should shock you. Going solo is 'in' in threatre these days. Especially so at the ongoing Bharat Rang Mahotsav 2002 where no less than 12 productions are solo performances. So too is Dubey's untitled play, based on two plays - Dario Fo's Medea (based on Greek playwright Euripedes play o the same name) and Vijaydan Detha's Nyari, Nyari Maryada. The play, which finds its origin in TV show, Beneath The Veil, on the exploitation of women by Taliban, is directed by Arvind Gaur of Asmita theatre group. Says Dubey: "The story is about a Raja and the atrocious manner in which he treats his Rani - a scenario recosnizable even today among men in Indian villages." He has lots of relationships and the play is about how Rani hits back. Incorporated into the story is Medea's tale, who hits back at her husband by killing her children, "because that would kill him psychologically. I wanted to do a play with a woman's point of view," explains Dubey. The play has been done by Theatreworld - a sister concern of Kidsworld, founded by Dubey and Bubbles Sabharwal 15 years ago.

Interestingly, the muppets - controlled by Dubey herself, have no facial features. "During the workshop ( when the play evolved), we realised that women are non-entitles every where - except in the urban sector. Its time the men went faceless," she says. The play which is "experimental in nature" according to Gaur, is a bilingual production in both Hindi and English, a difficult task to say the least. What can we say but we'll wait for the curtains to rise.

-The play will be performed at
Abhimanch Theatre on March 30,
at 7 p.m. at NSD & Basement Theatre,
IHC, on 12, 13 and 14 April at 7.30 p.m.