LADY POWER
Bombay Times, The Times of India Saturday 15 April, 2006

Delhi-based actor Lushin Dubey has mastered the art of using her energy to deliver a power-packed performance, writes Anil Sadarangani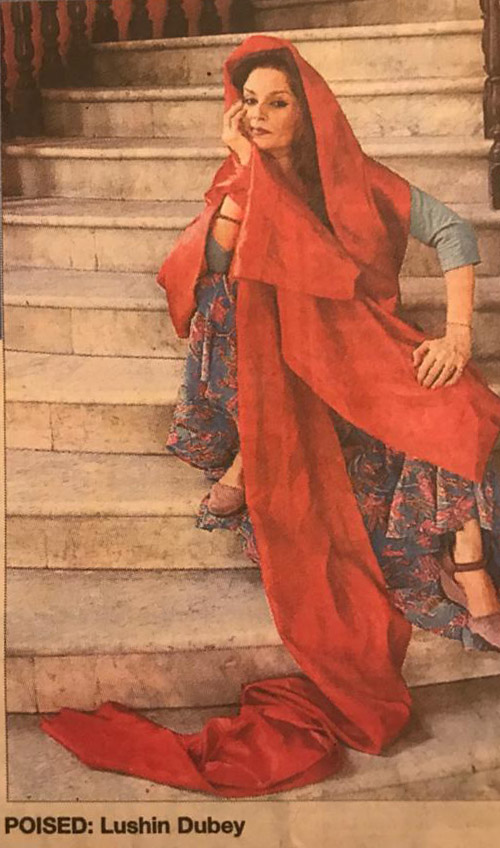 Alyque Padamsee's search for a suitable Lady Macbeth, for his play Macbeth, that opens today, ended when he saw Lushin Dubey's performance in a play titled Untitled, based on Dario Fo's Medea, directed by Arvind Gaur. It was the energy of her performance that made up his mind. That same shakti he saw in the tantricised character of Lady Macbeth. It was that same energy that saw her through one of her scariest moments on stage when she was performing at the Edinburgh festival a few years back. "There I was, doing my solo performance, jumping in and out of several characters, both male and female and only a few feet away in the audience was this group of punks, intimidating with a look that said, 'show us what you've got or we're out of here'. I realized either I had to nail them or get nailed. Fortunately for me, they stayed till the end," she laughs.
And perhaps it is that same 'force' that's a reflection of her journey in theatre, one that sets her apart from her contemporaries. For her, theatre is a device. Used to address a cause, an issue she believes in like children, sexual abuse, HIV, the environment, etc. Says the lady: "Maybe, lurking in me was a part that wanted to do social work.
Theatre and addressing issues became a marriage of sorts." Yet, she's found the right balance between theatre that has social cause as its motive and theatre that has itself as a motive. Of course, one thing that has remained a constant in her performances in whatever play is her passion for medium.
"I always have panel discussion after each play that's addressing an issue, the reactions are fantastic," says Lushin.
Shakespeare, of course, she'll always love. "I think all of us who've been injected with Shakespeare in school have this love for his work. That Alyque saw me in this role is a big compliment and I'm very grateful for that. I mean, this city (Mumbai) is not any less when it comes to talent," says Lushin.
Lushin is candid enough to admit that there although her energy has never let her down, there have been moments of uncertainty. "Being a Capriconian, my middle name is caution. This has been a big jump for me but of course, the way they welcomed me was amazing. I'm the sort who would walk off at the hint of negativity," she adds.