The ascent of children's theatre
Times of Chandigarh Tuesday, February 13,2007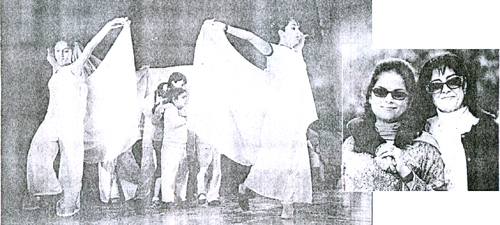 By Vandana Shukla Times News Network
Jessica Parker possesses 'histrokryptostatic tablet' that can take one into chosen epoch of the past. The aliens from planet Xena try to snatch important pieces of history. With the help of a genie, Jessica is able to foil their plans. With this high-tech exploration of the past in the language of theatre, Lushin Dubey and Bubbles Sabharwal help children have a peep into the evolution of mankind in 'The Ascent of Man'
Those with experience of working with children know how challenging it is to hold their attention for long. Yet, Lushin and Bubbles find this involvement refreshing and rejuvenating.
In the span of 18 years many child artists from their delhi-based theatre group, Kids' World, have grown up to become adults, forcing the duo to change approach and strategies for selection in theatre production. Lushin says it was imperative to choose something experimental. Children may not find a fairy tale or a pure narrative engrossing, but they would definitely like this tale of exploration.
A post-graduate in special education, Lushin's interest grew in theatre from her childhood days, when she joined Berry John's theatre group. Later, when she started her own theatre for children, she helped them face various challenges, use theatre as a platform to work on their strengths. This gave strength to her approach as parents discovered hidden talents of their children. Their enhanced confidence levels helped them perform better in other areas too.
Lushin has also been acting for various film projects. Recently, she received Gemini Award for her performance in Murder Unveiled.
Bubbles says theatre offers education parallel to the formal education. "The stage truly offers lessons in life, I personally feel, theatre helped me evolve from a highly compartmentalized person to one who got rid of all layers."
The Ascent of Man was staged by a crew of 22 children and adults from Kids' World who came from Delhi for the show for Durga Das Foundation. The programme was held at Tagore Theatre on Monday evening for school children.