Playing It right
DNA After Hrs Mumbai, Friday, May 18,2007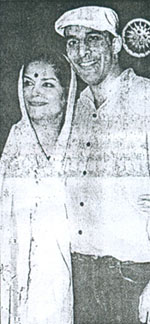 All smiles: Lushin Dubey and Daman
the affair
Preview of play 'muskaan'
d.d.u.
Tuesday, May 15, Experimental Theatre, NCPA,
the juice
Produced by Raell padamsee and directed by Lushin Dubey (who also acts in it) this
play was based around the unknown risks oh HIV. Lushin gave a brilliant
performance in this two-actor play and was lauded by those who turned up for the
preview, including Anju Taraporewala (who came in with her mother), Kahini Arte
Merchant, Simone Singh and Fahad Samar, Pheroza Godrej, Chhaya Momaya and of
course, Alyque Padamsee.